THREE DATES to BUILD WITH US at the Chicago Architecture Biennial:
OCTOBER 31, 2021 12-3pm
Event is on Halloween in Pilsen! We will be outside at the El Paseo Community Garden at 944 West 21st Street, Chicago, IL.
OCTOBER 23, 2021 12-3pm
Event in an out of the way location in the South Loop! 720 S Wells St, Chicago, IL near a highrise called The Cooper.
SEPTEMBER 25, 2021 12-3pm
Can't wait to work with kids and families to see what they build in the Edgewater neighborhood in Chicago. The site is called 6018|North and the address is 6018 North Kenmore Ave, Chicago, IL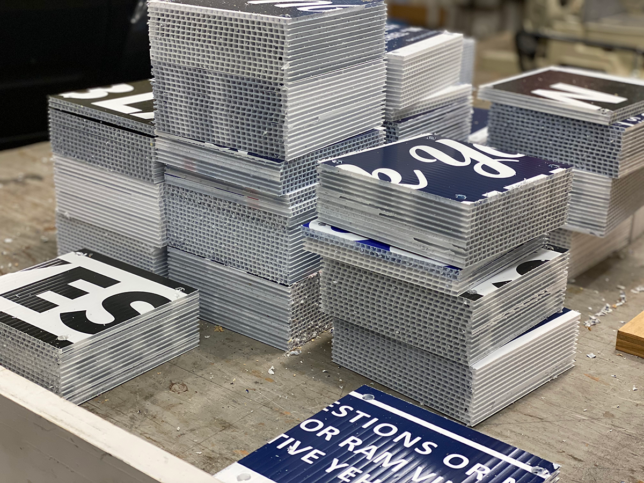 We prepared 3000+ building squares for our events for the Chicago Architecture Biennial 2021, "The Available City" and we are busy busy busy. It takes a lot of cutting and sawing and chopping and drilling to make these fine building squares out of available materials which are the plastic lawn signs that were used by politicians and others.
In fact, a big thank you to the office of Illinois State Senator Ram Villivalam for donating a lot of their extra signs. We were able to keep a whole lot of plastic out of the waste stream and use them for building, as well as others who donated to us.
Also want to thank our amazing teammate, Neil, who figured out how to cut so many squares and drill the holes too. (See below for some photos of the jigs that he built to make the magic happen.