She Documented It (A Red Record, Lynchings in America) is a recent lithograph with hand coloring, 22×30.
This piece has will be showing in the exhibit, "Bad@ssery: Women Creating a Just Environment and World", a virtual exhibition celebrating art by women at the Koehnline Museum.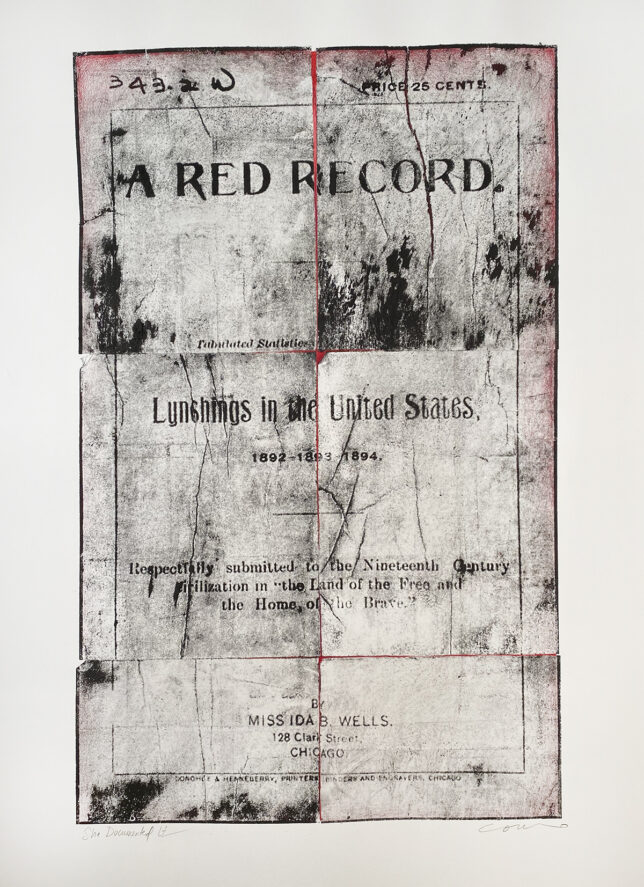 After reading more about Ida B. Wells and her work, I was drawn to her strength and bravery. She published this pamphlet, "A Red Record" to document a history of racism and details about some horrific lynchings in America. This is not comprehensive but only a collection of evil stories that she could support because the Chicago Tribune had documented them. There were other lynchings and murders and they continue.
There was a relationship between Ida B. Wells and her contemporary, Francis Willard. Find out more at this online exhibition. Willard was the head of the Women's Christian Temperance Union, a very popular organization with a broad social reform agenda. It seems that these women would have been aligned in their efforts but there were many obstacles, including racism, which prevented it.

I have created a series of pieces in 2020/2021 based on texts, including Ann Lister's diaries, the Mueller Report and the search warrant of Michael Cohen. Each piece tells part of a historical or social story, hopefully uncovering hidden information. "She Documented It" shares the truth of a difficult document with blood red peeking out from between the printing plates. So much darkness lives on these pages and the fatigued impression of the cover implies exhaustion from still living with this pain that Ida B. Wells must have felt and fought against . The materiality of my lithographic printmaking process contributes to the rawness of the subject of the booklet.
The piece has been sold to a collector.