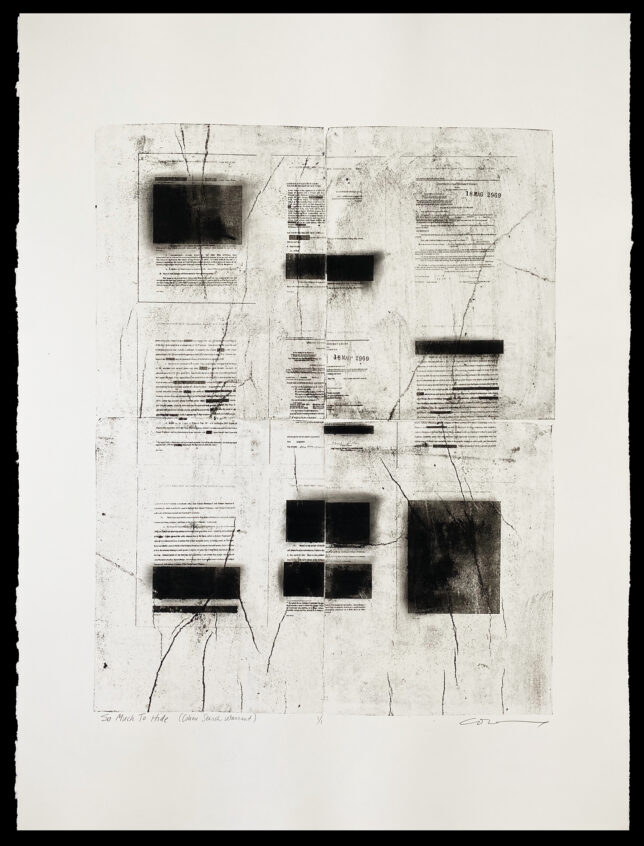 Ah, if there was not Covid, I would be in New York City in a hot minute to check out the prints in this exhibition,
"LONELY HEARTS/PRINTS 2021 Summer".
Selected by Christiane Baumgartner
June 10 – September 18.

My print in the exhibition is titled, "So Much to Say" (Cohen Search Warrant). It is a lithograph with hand coloring.

Artist statement reads:
I was drawn to the graphical quality of the documents that came out of the recent years of the Trump era. My first piece in the series was titled "Redacted" where the imagery came from the Mueller Report. This piece is derived from the Michael Cohen Search Warrant. I wanted to reveal the amount of information that was hidden through redaction, uncovering what was covered up. By displaying several pages at once, the lack of opacity is exposed and exaggerated. So much darkness on these pages.
Future pieces may be based on the Search Warrants from Giuliani or Sessions or Barr or McConnell….et al.
Blessed to be included in this exhibition at the IPCNY (International Print Center of New York) located in Chelsea right near the High Line.