what we do
design. art. creative projects.
practice
an art exhibition and community development event

an education project for kids about the built environment

community-building with art and drawing activities

fine art print and drawings
Community Art Making
Projects
Go to Drawing Portraits
Drawing Portraits
Imagine a table with a very large image on paper that is a series of dots of all sizes. Invite people to come and draw on plastic that sits atop the paper and mark the circles as you converse and get to know one and other. Eventually you hang up the vinyl and an image of a face appears. You drew it together by coming together and created something.
Design Work
web design|development + marketing|communications
recent news and events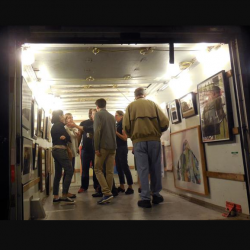 Our fingers were crossed for good weather and we got it! Lots of excellent art work, so many guests and artists hanging out, conversing and spending time enjoying our community. If you are an artist and you want to participate in a future artruck, please contact me at jcowan@solidprint.com. see more at artruck.org
Previous
Next
Contact us
jcowan{at}solidprint.com